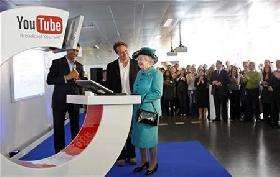 Google Inc's YouTube said on Thursday it has reached a deal to post Sony Corp films and TV shows and was talking with other big studios to ramp up content and attract more advertising dollars.
YouTube also announced deals with 11 other partners including the Anime Network, Shout Factory, Telenext Media, Documentary Channel and First Look Studios, bolstering its licensed content offerings from dozens of movies and hundreds of TV episodes to 700 movies and thousands of TV episodes.
YouTube also recently announced a partnership with Walt Disney Co to get shortform excerpts of content from ABC and ESPN, reflecting its aggressive efforts to thaw a chilly relationship with Hollywood, which had criticized it in the past for posting unauthorized content.
The partnerships also mark YouTube's efforts to compete with Hulu, a joint venture of General Electric Co's NBC and News Corp's Fox and a popular online hub for TV shows and films.
YouTube, purchased by Google for $1.65 billion in 2006, is under pressure to start yielding a return in line with its huge popularity. More than 100 million users watch videos on the site every month, but the site, best known for grainy videos uploaded by users, has been unable to attract major financial commitments from marketers reluctant to advertise their brands alongside unprofessional content.
"We are in active negotiations with premium content providers and are looking forward to announcing more content partnerships in the near future," YouTube spokesman Chris Dale said on Thursday.
As part of its latest efforts, YouTube said on Thursday it launched a new destination for TV shows and an improved page for movies to make it easier for viewers to discover content.
YouTube has a pending copyright infringement lawsuit from Viacom Inc, but Viacom's sister company CBS posts episodes of older shows like "Star Trek" and "Beverly Hills 90210" on the video sharing site.
Lions Gate Entertainment had previously reached a deal to feature film clips on YouTube, while MGM is one of the few studios to offer full-length movies via its own channel on YouTube.
A Sony spokeswoman said about 15 mostly older films like "St. Elmo's Fire," and "The Blue Lagoon," will be viewable via YouTube on Sony's Crackle site.
YouTube said it was also posting Sony TV shows like "Charlie's Angels" and "Married with Children."
Last week YouTube and Universal Music Group said they will launch a premium music video site called Vevo featuring mainly just professionally-made music videos.