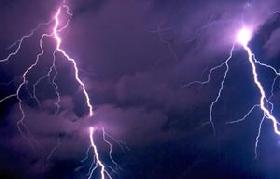 Nine people, including six children under 16, were killed in lightning strikes across the country on Tuesday.
Four children aged between 8 and 15 died in Brahmanbaria.
Khadiza Begum, 8, Rabbi, 12, and Rimon Miah, 15, died in Akhaura Upazila as lightning struck them while they were picking mangoes during a thunderstorm, reported us local correspondent.
Another 15 year-old, Shafiqur Rahman, died as he was farming in the fields at Terakanda village in Sarail Upazila.
Lightning killed three people, including another two children, and wounded three others in Faridpur.
Brothers Rubel Sheikh, 10, and Nazrul Sheikh, 14, sons of Sheikh Shamsu, died as lightning hit the metal roof of their house at Damrhi village in Charmadhabdiya, Sadar Upazila.
Dr Nurul Islam of Faridpur General Hospital told us Rubel died on the spot while Nazrul died at the hospital.
Another lightning victim Kuddus died at Boail village, Dangi, in Nagarkanda Upazila.
Dangi UP chairman Sabdar Saifuzzaman Chowdhury said Kuddus was struck by lightning and sustained severe injuries as he was sowing jute seeds next to his village.
On-duty doctors declared him dead after he was taken to Faridpur Medical College Hospital, he said.
Three others injured by lightning were admitted to the same hospital on the same day, said locals.
Two people were killed and one was injured in Keraniganj, Dhaka.
Keraniganj police chief Md Asaduzzaman told us said Haider Ali, 26, and Shamsul Haque, 67, died as they were struck by lightning at around 7:30am while working on farmland at Chandripur village in Taranagar, Keraniganj.
Gulzar Hossain, Shamsul's brother, was injured at the time.
According to some estimates, as many as 150 people die a year after being struck by lightning Bangladesh.