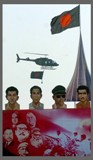 Bangladesh celebrates 38 years as an independent nation state in an uneasy calm over security concerns, and without the traditional National Day parade by the armed forces.
The government has ordered beefed-up security in all its cities, towns and major installations.
But the president, Md Zillur Rahman, will go ahead with the annual party at the Bangabhaban for eminent citizens, freedom fighters and representatives of all walks of life.
The day falls exactly a month after the murderous Feb 25-26 BDR mutiny, dampening the celebrations.
On March 26, 1971, independence hero Sheikh Mujibur Rahman proclaimed Bangladesh free after the Pakistani military rulers refused to honour a popular vote in Dec 1970.
The announcement followed weeks of protests, violent campaign, the historic Mar 7 speech at the Race Course by the man who came to be lovingly called Bangabandhu, and a bloody, mindless crackdown on the innocent civilians on the fateful night of Mar 25, 1971.
The public holiday gives millions of urban people an extended weekend, but many remain apprehensive.
Officials say there will be more-than-normal security measures everywhere. The government cancelled the parade plans in the wake of the mutiny that killed 75 people, including 57 army officers deputed to the BDR.
The capital will receive the most attention. "Around 2,000 of additional security personnel as well as regular patrol teams will be deployed," additional deputy police commissioner Mohammad Walid Hossain told us on the eve of the celebrations.
"About 1500 additional Rapid Action Battalion members will be on duty in the capital," Abul Kalam Azad (legal and media) director of Rapid Action Battalion told bdnews24.com.
He said all other RAB battalions across the country will take similar steps.
The Shaheed Minar in Dhaka University and the National Memorial in Savar would be under extra security surveillance.
There will be no dearth of discussion meetings, cultural programmes and other events throughout the country to mark the Independence Day.