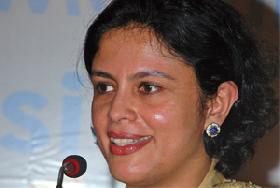 Bangladeshi writer Rubana Haq has won the 'SAARC Literary Award, 2009' for her book of poems "Time of My Life".
The Foundation of SAARC Writers and Literature (FOSWAL) announced the award after its SAARC Festival of Literature in Agra, India, from Mar 13 to 17.
"It feels very good receiving such an award, with a repeated feeling that I'm not worthy of such a prestigious one," Rubana told us Friday.
"The South Asian region has some common bonding in art, music and literature. I'm really happy with my contribution to strengthen the bonding."
Veteran litterateur Selina Hossain received the award on behalf of Rubana at the festival.
Indian author and rights activist Mashweta Devi won the FOSWAL award in 2007.
The chief executive officer of South Asia Television, Rubana Haq is the wife of Bangladesh's apex trade body FBCCI's president Anisul Haq.